Traffic Lights System for Ranking & Weighting Poker Hands for Bets
Jump to Ranking Details
Traffic Lights: Green, Amber and Red are used to rank and weight 2-card hands based on probabilities of winning games. The system gives each card a score. Extra points are given for: Pairs, Suited and Connected cards. This is justified because it increases the Ways-of-Winning and the number of outs. A pair-in-the-hand often wins the game. Having Suited Cards increases the chances of a Flush. Connected Cards increase the chances of a straight. Having two Court Cards increases the chances of getting a high pair. The scoring system is based on the probabilities of winning with a hand of two cards.
See Resources for analysis of how the hand scores relate to the probabilities.
These Traffic Lights Rules is related to the Thrice is Nice Rule-of-Thumb.
Card Scores
A => 6

K => 5

Q => 4

J,T(10) => 4

9,8,7 => 3

6,5,4,3,2 => 2
Extra Scores
Pair => extra 4
Suited => extra 2
Connected => extra 1
Suited & Connected => extra 3
Traffic Lights Ranking
Simplified Traffic Lights Ranking Rules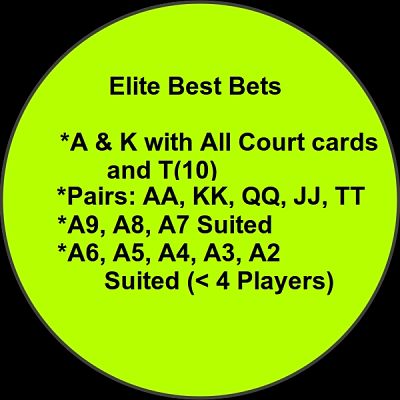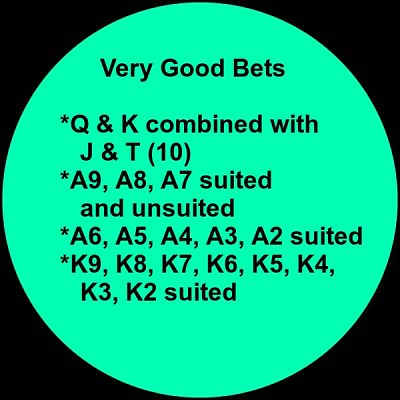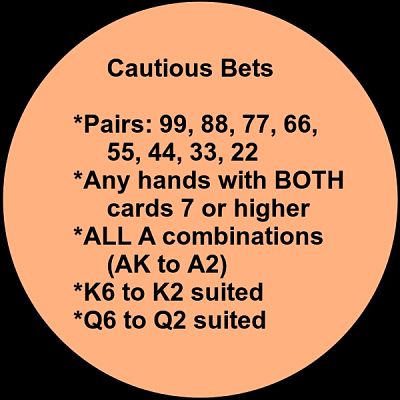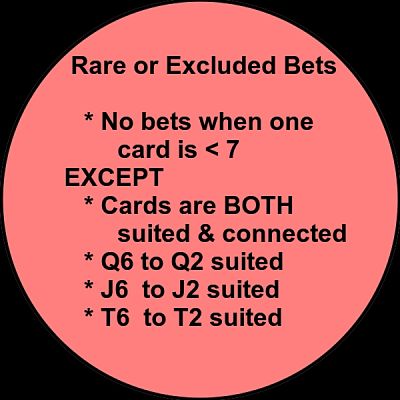 Traffic Lights Ranking - Full Details & Hand Listings
Lime Green - Best Bets Rules
Pairs AA, KK, QQ, JJ, TT
AK, KQ, AQ, AJ, A10 suited and unsuited
KJ, K10 suited
A9, A8, A7 Suited
A6, A5, A4, A3, A2 Suited [Less than Four Players]
Lime Green Hand Rank Scores
AA => 16
AKsc => 14
KK => 14
AQs => 13
Akoc => 12
KQsc => 12
QQ => 12
AQo => 11
AJs => 11
ATs => 11
KJs => 11
KTs => 11
A9,8,7s => 10
KQoc => 10
QJsc => 10
JJ => 10
TT => 10
AJo => 9
ATo => 9
A6,5,4,3,2s => 9
Green - Good Bets Rules
QT, JT suited
KJ, KT unsuited
A9, A8, A7 suited and unsuited
A6, A5, A4, A3, A2 suited
K9, K8, K7, K6, K5, K4, K3, K2 suited
Green Hand Rank Scores
A6,5,4,3,2s => 9
K9,8,7s => 9
QTs => 9
JTsc => 9
A9,8,7o => 8
KJo => 8
KTo => 8
K6,5,4,3,2s => 8
QJoc => 8
Orange - Cautious Bet Rules
Pairs: 99, 88, 77, 66, 55, 44, 33, 22
Any hands with BOTH cards 7 or higher
A6, A5, A4, A3, A2 unsuited
Q6, Q5, Q4, Q3, Q2 suited
Orange Hand Rank Scores
Q9,8,7s => 8
Q6,5,4,3,2s => 8
T9sc => 8
99 => 8
88 => 8
77 => 8
A6,5,4,3,2o => 7
K9,8,7o => 7
Qto => 7
Jtoc => 7
Jtoc => 7
J9,8,7s => 7
T8,7s => 7
98sc => 7
87sc => 7
98sc => 7
Q9,8,7o => 6
J9,8,7o => 5
T8,7o => 5
T9uc => 6
97s => 6
98oc => 5
87oc => 5
97o => 4
Red - Rare Bet Rules
No bets when one card is < 7
EXCEPT
Cards BOTH suited & connected
Q6, Q5, Q4, Q3, Q2 suited
J6, J5, J4, J3, J2 suited
T6, T5, T4, T3, T2 suited
Red Hand Rank Scores
K6,5,4,3,2u => 6
J6,5,4,3,2s => 6
T6,5,4,3,2s => 6
76sc => 6
75,4,3,2o => 6
66 => 6
55 => 6
44 => 6
33 => 6
22 => 6
Q6,5,4,3,2o => 5
96,5,4,3,2s => 5
86,5,4,3,2s => 5
76oc => 5
J6,5,4,3,2o => 4
T6,5,4,3,2o => 4
65sc => 4
64,3,2s => 4
54sc => 4
53,2s => 4
43sc => 4
42s => 4
32sc => 4
96,5,4,3,2o => 3
86,5,4,3,2o => 3
75,4,3,2s => 3
65oc => 3
54oc => 3
43oc => 3
32oc => 3
64,3,2u => 2
53,2u => 2
42u => 2