Traffic Lights System for Ranking & Weighting Poker Hands for Bets
Jump to Ranking Details
Traffic Lights: Green, Amber and Red are used to rank and weight 2-card hands based on probabilities of winning games. The system gives each card a score. Extra points are given for: Pairs, Suited and Connected cards. This is justified because it increases the Ways-of-Winning and the number of outs. A pair-in-the-hand often wins the game. Having Suited Cards increases the chances of a Flush. Connected Cards increase the chances of a straight. Having two Court Cards increases the chances of getting a high pair.

Generally any pair with one card <7, except A & K is a poor bet , with Q & J combinations only worthy for 2-3 players. Number of Ways of winning is an extra consideration which is incorporated into the bonus scores system for pairs connected and suited and all A cards. The scoring system is based on the probabilities of winning with a hand of two cards.
See Resources for analysis of how the hand scores relate to the probabilities.
These Traffic Lights Rules is related to the Thrice is Nice Rule-of-Thumb. NOTE: There are 169 possible two-card combos that can be dealt. Of these about 30 meet the criteria below (>7) => about 1:5 deals.
RULES OF THUMB for Starting Pairs || RED shows extra options-few players

No Card < 7 EXCEPT A & K Combos SUITED
All => AA AK AQ AJ A10 A9 A8 A7 |+| SUITED A6 A5 A4 A3 A2 early
All => KK KQ KJ K10 K9 K8, K7 |+| SUITED K6 K5 K4 K3 K2 early few players
All => QQ QJ Q10 |+| SUITED Q9 Q8 Q7 early few players
All => JJ |+| SUITED J10
PAIRS > 7 (others early for Triples)
Adjacent and Adjoining Cards >6 & SUITED
Aim to play fewer players with weaker cards => play in late position or natural low numbers
On the button or one before can play weaker hands mostly A => 2, K => 2 (unsuited) in shoot-out, Q => 7 (suited), but BOTH > 6 is safer. Expect weaker opponents, bet to steal the blinds when you can, reduced competition. Can try suited connectors as well.
ACE with kicker hands <7 are problematic as more A's out there => only play with 3-4 players and LATE in hand. Except very late in the 'game shoot' out, when few players remain
Ride with a best, or second best, pair match, 'bird in the hand', but watch the betting as what you probably have is obvious, and look at what others may have. Early small bet is good for testing waters
Pre-bet Early for AA, AKs, AQs, KK, QQ, KQs Middle/Late AKo, AQo, AJo, KQo, QTs, JTs, TT, 99 only, rarely call others pre-bet unless have gun hand. Range of card strength of opponents varies, but generally they will have good cards => need to be sure you can beat them. Aim for a 3-bb raise. Reason to Pre-Bet. Collect blinds. Reduce the number of players, eliminating poor hands that can jag a win, cream of the pot left. Increase pot size. Be aggreesive. Raise from late position as often as possible, but those in will continue with bad hands and if few already not needed.
Early => Look-see with weaker hands and low value pairs <7, cost is low
Middle => Play tight with Premium Hands
Late => Higher Cards are better A K Q J its a shoot out! Straights and flushes are less important. Low pairs come back to the fore, Play weaker cards, try for Both Cards >7
Key error => Don't continue with good (winning?) hand when high bet against you => key way of losing => Read the signs in ways of losing + beware of triples. Your opponent can guess your hand especially with single high pair. High bluff is rare.
The System
Card Scores
A => 6

K => 5

Q => 4

J,T(10) => 3

9,8,7 => 2

6,5,4,3,2 => 1
Extra Scores
Pair => extra 4
Suited => extra 2
Connected => extra 1
Suited & Connected => extra 3
Traffic Lights Ranking
Simplified Traffic Lights Ranking Rules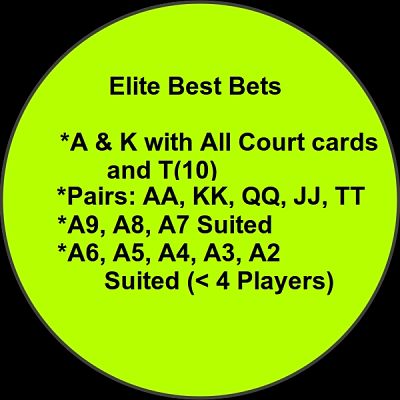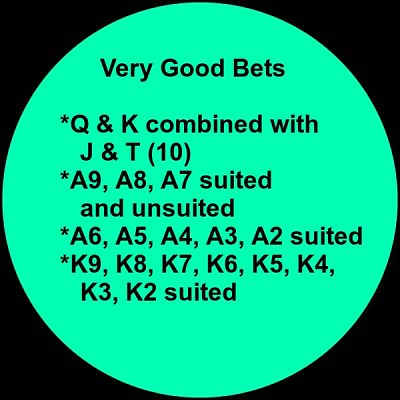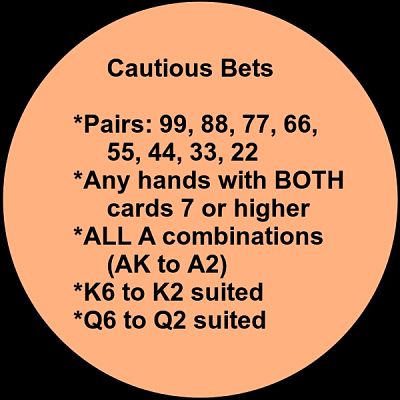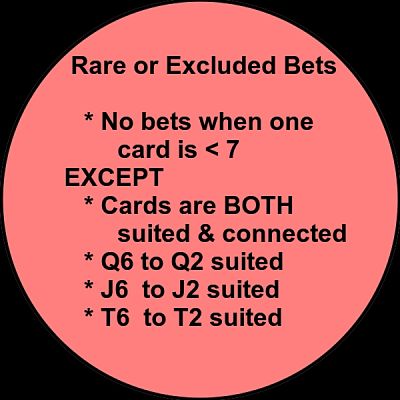 Traffic Lights Ranking - Full Details & Hand Listings
Note: Pairs with more than two ways of winning are shown in RED
Lime Green - Best Bets Rules
Pairs AA, KK, QQ, JJ, TT
AK, KQ, AQ, AJ, A10 suited and unsuited
KJ, K10 suited
A9, A8, A7 Suited
A6, A5, A4, A3, A2 Suited [Less than Four Players]
Lime Green Hand Rank Scores
AA => 16

AKsc => 14

KK => 14

AQs => 13

AKoc => 12

KQsc => 12

QQ => 12
AQo => 11

AJs => 11

ATs => 11

KJs => 11

KTs => 11

A9,8,7s => 10

KQoc => 10

QJsc => 10

JJ => 10
TT => 10
AJo => 9
ATo => 9

A6,5,4,3,2 suited => 9
Green - Good Bets Rules
QT, JT suited
KJ, KT unsuited
A9, A8, A7 suited and unsuited
A6, A5, A4, A3, A2 suited
K9, K8, K7, K6, K5, K4, K3, K2 suited
Green Hand Rank Scores
K9,8,7s => 9

QTs => 9

JTsc => 9

A9,8,7o => 8
KJo => 8
KTo => 8
K6,5,4,3,2s => 8

QJoc => 8
Orange - Cautious Bet Rules
Pairs: 99, 88, 77, 66, 55, 44, 33, 22
Any hands with BOTH cards 7 or higher
A6, A5, A4, A3, A2 unsuited
Q6, Q5, Q4, Q3, Q2 suited
Orange Hand Rank Scores
Q9,8,7s => 8

Q6,5,4,3,2s => 8

T9sc => 8

99 => 8
88 => 8
77 => 8
A6,5,4,3,2o => 7
K9,8,7o => 7
QTo => 7

JToc => 7

J9,8,7s => 7

T8,7s => 7

98sc => 7

87sc => 7

98sc => 7

Q9,8,7o => 6
J9,8,7o => 5
T8,7o => 5

T9oc => 6

97s => 6

98oc => 5

87oc => 5

97o => 4
Red - Rare Bet Rules
No bets when one card is < 7
EXCEPT
Cards BOTH suited & connected
Q6, Q5, Q4, Q3, Q2 suited
J6, J5, J4, J3, J2 suited
T6, T5, T4, T3, T2 suited
Red Hand Rank Scores
K6,5,4,3,2o => 6
J6,5,4,3,2s => 6
T6,5,4,3,2s => 6
76sc => 6
75,4,3,2o => 6
66 => 6
55 => 6
44 => 6
33 => 6
22 => 6
Q6,5,4,3,2o => 5
96,5,4,3,2s => 5
86,5,4,3,2s => 5
76oc => 5
J6,5,4,3,2o => 4
T6,5,4,3,2o => 4
65sc => 4
64,3,2s => 4
54sc => 4
53,2s => 4
43sc => 4
42s => 4
32sc => 4
96,5,4,3,2o => 3
86,5,4,3,2o => 3
75,4,3,2s => 3
65oc => 3
54oc => 3
43oc => 3
32oc => 3
64,3,2o => 2
53,2o => 2
42o => 2
Two card Selection for the System
| | | | | | | | | | | | | |
| --- | --- | --- | --- | --- | --- | --- | --- | --- | --- | --- | --- | --- |
| AA | AKs | AQs | AJs | ATs | A9s | A8s | A7s | A6s | A5s | A4s | A3s | A2s |
| AKo | KK | KQs | KJs | KTs | K9s | K8s | K7s | K6s | K5s | K4s | K3s | K2s |
| AQo | KQo | QQ | QJs | QTs | Q9s | Q8s | Q7s | Q6s | Q5s | Q4s | Q3s | Q2s |
| AJo | KJo | QJo | JJ | JTs | J9s | J8s | J7s | J6s | JSs | J4s | J3s | J2s |
| ATo | KTo | QTo | JTo | TT | T9s | T8s | T7s | T6s | T5s | T4s | T3s | T2s |
| A9o | K9o | Q9o | J9o | T9o | 99 | 98s | 97s | 96s | 95s | 94s | 93s | 92s |
| A8o | K8o | Q8o | J8o | T8o | 98o | 88 | 87s | 86s | 85s | 84s | 83s | 82s |
| A7o | K7o | Q7o | J7o | T7o | 97o | 87o | 77 | 76s | 75s | 74s | 73s | 72s |
| A6o | K6o | Q6o | J6o | T6o | 96o | 86o | 76o | 66 | 65s | 64s | 63s | 62s |
| ASo | K5o | Q5o | J5o | T5o | 95o | 85o | 75o | 65o | 55 | 54s | 53s | 52s |
| A4o | K4o | Q4o | J4o | T4o | 94o | 84o | 74o | 64o | 54o | 44 | 43s | 42s |
| A3o | K3o | Q3o | J3o | T3o | 93o | 83o | 73o | 63o | 53o | 43o | 33 | 32s |
| A2o | K2o | Q2o | J2o | T2o | 92o | 82o | 72o | 62o | 52o | 42o | 32o | 22 |
| | | | | | | | | | | | | |
| | high | | | | | | | | | | | |
| | mod | | | | | | | | | | | |
| | + > 6 | | | | | | | | | | | |
Counts
A to 7 all

113

A6 to 2 s

49

K to 7 all

113

K6 to 2 s

49

Q to T all

33

Q9 to 7 s

21

JJ JT all

17

AA to 77

8

Suited Con

16

Total

300

with

420

2562 -> 2-card

combinations

1:10

1:7
Poker Truisms
Position,
Patience
Confidence
Be the aggressor, not the victim, nor the limper
What matters more than what you have is what your opponents think you have - foundation of bluffing.
Seldom call an all-in (pre-flop) with less than AA or KK.
80% of the time, a large bet/raise means 2 pair or a set.
Start with a pair, End with a pair.
The Average Winning Hand in hold'em is 2 pair.
Remember, AK and AQ are just drawing hands - You will miss the flop 73% of the time.
The good stuff is generally in the small-medium pots.
Take as much chance out of the game as you can. Read the signs in the flop and bets and the table mood.
It's often the good hands or failed big cards that you that get you into trouble.
A good player knows when to fold a good hand.
The other players miss the flop as often as you do and get a full house with cards you fold as often as you do.
Suited cards are better than non-suited, but not by as much as you might think (+5%).
Having both start > 6 gives two ways of getting a pair and they provide a kicker for each other => increases the odds for a winning pair.
Ace Rag (unsuited) Ace with a low kicker A9, A8, A7, A6, A5, A4, A3, A2 are danger cards, generally fold unless few players remain in the hand. Same applies for K
Small to medium pairs unsuited are of low value => position and number of players is the pkey. Your pair will hit a set about 10% of the time
Push for a win when you are in control. Let go the risky races with uncertainty, fold.
The probability of complete a straight with 2 connected cards is about 2.6%
The probability of completing a flush with 2 suited cards is about 2.4% (so flush is harder).
Tthe probability of completing either a straight or flush with a 2 suited connected cards is about 2.8% + 2.4% = 5.2%.
The probability of completing a straight with 3 connected cards is about 13.1%.
The probability of completing a flush with 3 suited cards is about 25.2%. (double that for completing a straight).
Two Times Rule: After the flop, multiplying the number of outs by 2 gives an estimate of the probability of hitting your outs by the next card.
Four Times Rule: After the flop, multiplying the number of outs by 4 gives an estimate of the probability of hitting your outs by the river.
EXTRA
Only go all in in desperation with few players and seldom as a call - too risky. Better when you see the flop cards
Play with 1-2 overcards after the flop if cost is small
Keep late position plays with weaker cards to A and K, best >7 and Suited
2 cards >7 works because have 2 pairing options, both supported by good kicker
Play from gun and single bind as single pair shoot-out => expect weaker hands with 1 to 3 players only involved - A & K are best
Use Natural low player numbers early, by playing late, otherwise too many options for other players and also gets swamped by larhe pre-flops
Avoid Calling All-ins - high risk especially with more than one other player